"Let me tell you about my boat"
Lauren LA 35 was designed by DI Henning Laurén 1971 in Parais
Lauren LA 35 boats are similar to the classic Swan 36 sailboat.

Nautor Oy Ab is a shipyard in Pietarsaari that manufactures large, fast and luxurious Swan sailboats. Nautor was founded in 1966 by Pekka Koskenkylä with the aim of serial production of an 11-meter fiberglass sailboat known as the Swan 36. Since then, almost a hundred of this first boat model were produced.
Lauren LA 35 boats are made in Parain, a series of 30 pieces. S/Y Simma was completed in 1981 and is a unique piece and stands out from this series with its streamlined teak deck.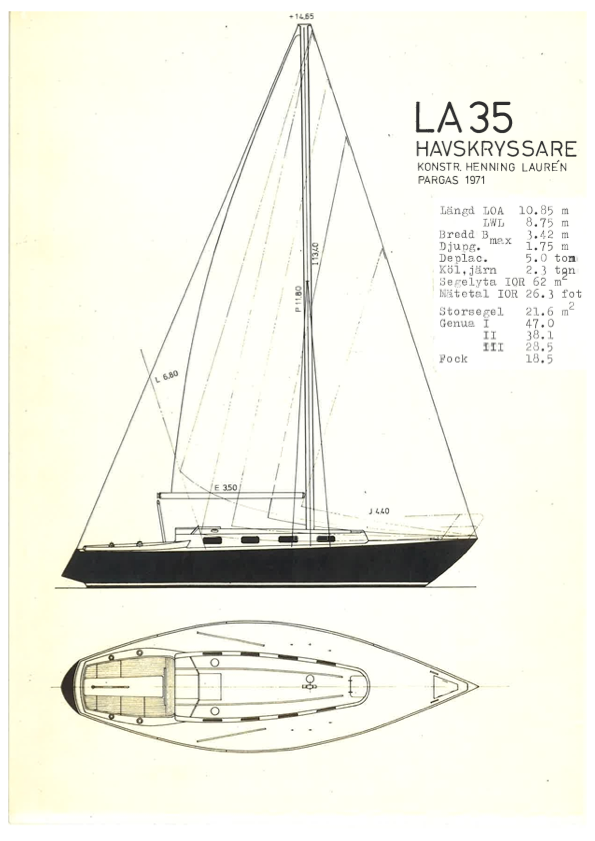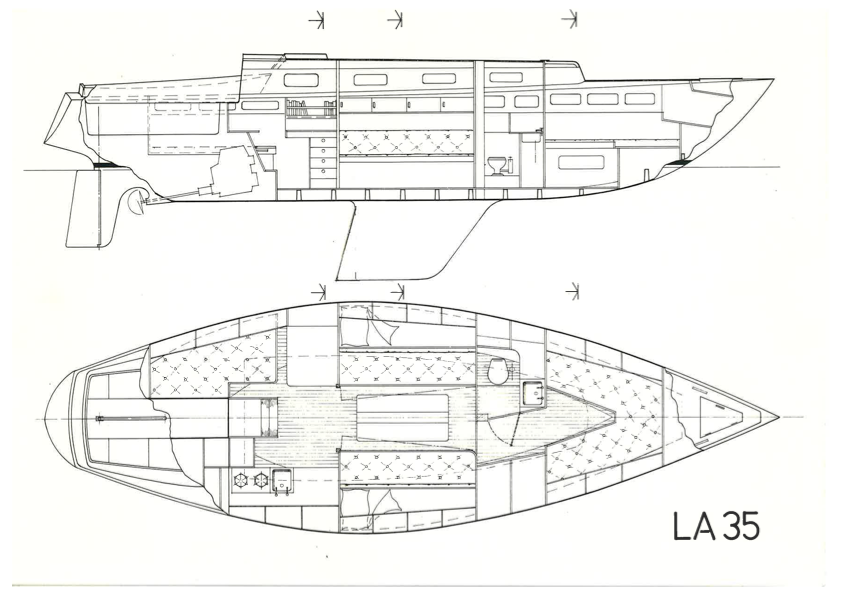 How does Simma differ from other Laurens?
Although fiberglass boats are made with a mold, Simma's deck is not made with a mold. Simma's deck is unlike the vertical-cabin Laurens, it is streamlined like in racing boats and completely covered with teak.

There are many Laurens, but only one Simma.
Rarer than rare <3
Ocean Cruiser
The 35-foot sailboat is just the right size for crossing oceans with family, but also for solo sailing.

There is plenty of space for the smooth shape, and as a fin-keeled boat, the weight is suitable for handling in different conditions.
Tapio Lehtinen sailed in Golden Globe Race 2022 with a boat of the same size.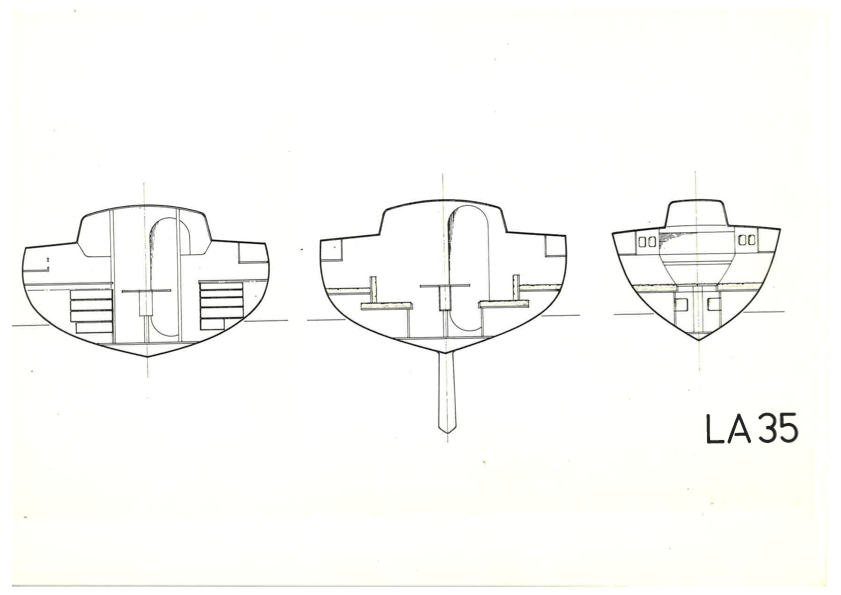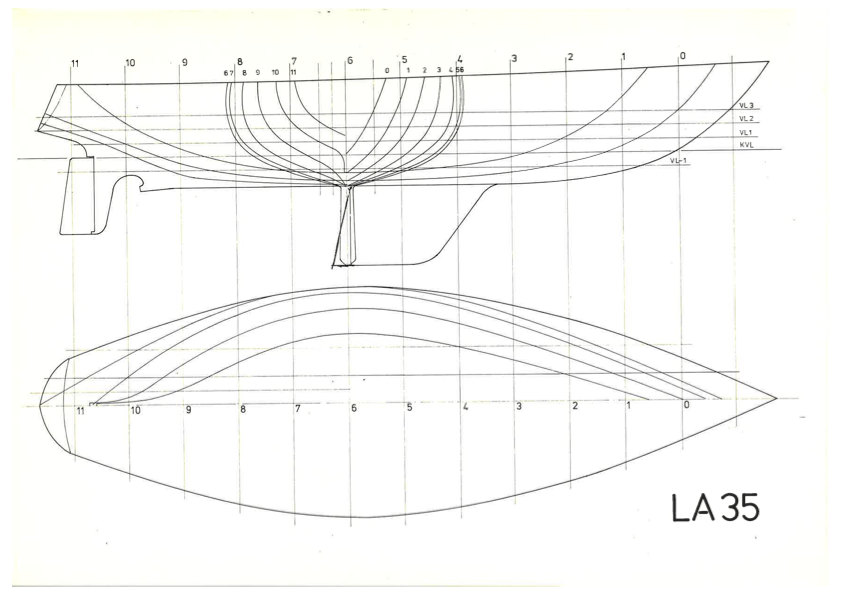 Classic lines
Boats from the 70s and 80s are classic and sleek in shape. There is not as much space as in modern boats, because after the middle the hull narrows towards the stern, unlike in boats designed after the 2000s and 2010s, where the hull practically does not narrow towards the stern at all.

In practice, a boat that is 10-20 years younger has, in addition to one aft cabin, as much room inside as a second aft cabin. A 21st century boat after 30 foot is as big inside as a 35 foot boat from the 80s. But otherwise, a 30-footer is a 30-footer and a 35-footer is a 35-footer.
The history of Simma

Simman was commissioned and built by Bo Sigfrids in Parais at the turn of the 70s and 80s. Simma has paid FIM 50,000 for the frame and deck ready (fiberglass). The original engine was a Yanmar 20 hp and seawater cooled. Simma is registered in the ship register on January 1, 1981, when it was completed and when the warranty period for the engine began. The engine lasted 38 years!
With a 20 hp engine, Simma moves at approx. 5 knots, i.e. 10 km/h. In this case, 1.25 - 2 L/h of fuel is consumed, depending on the conditions.
With sails, Simma moves up to a hull speed of 7 knots, i.e. 13 km/h, depending on the wind. After this, the tilt (25-30 degrees) and the stress on the rig increases above the hull speed.
Simma has been bought for the same amount as it originally cost Bo with the frame and deck ready before 1981.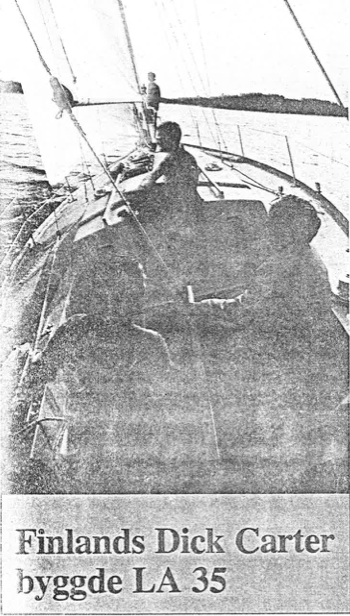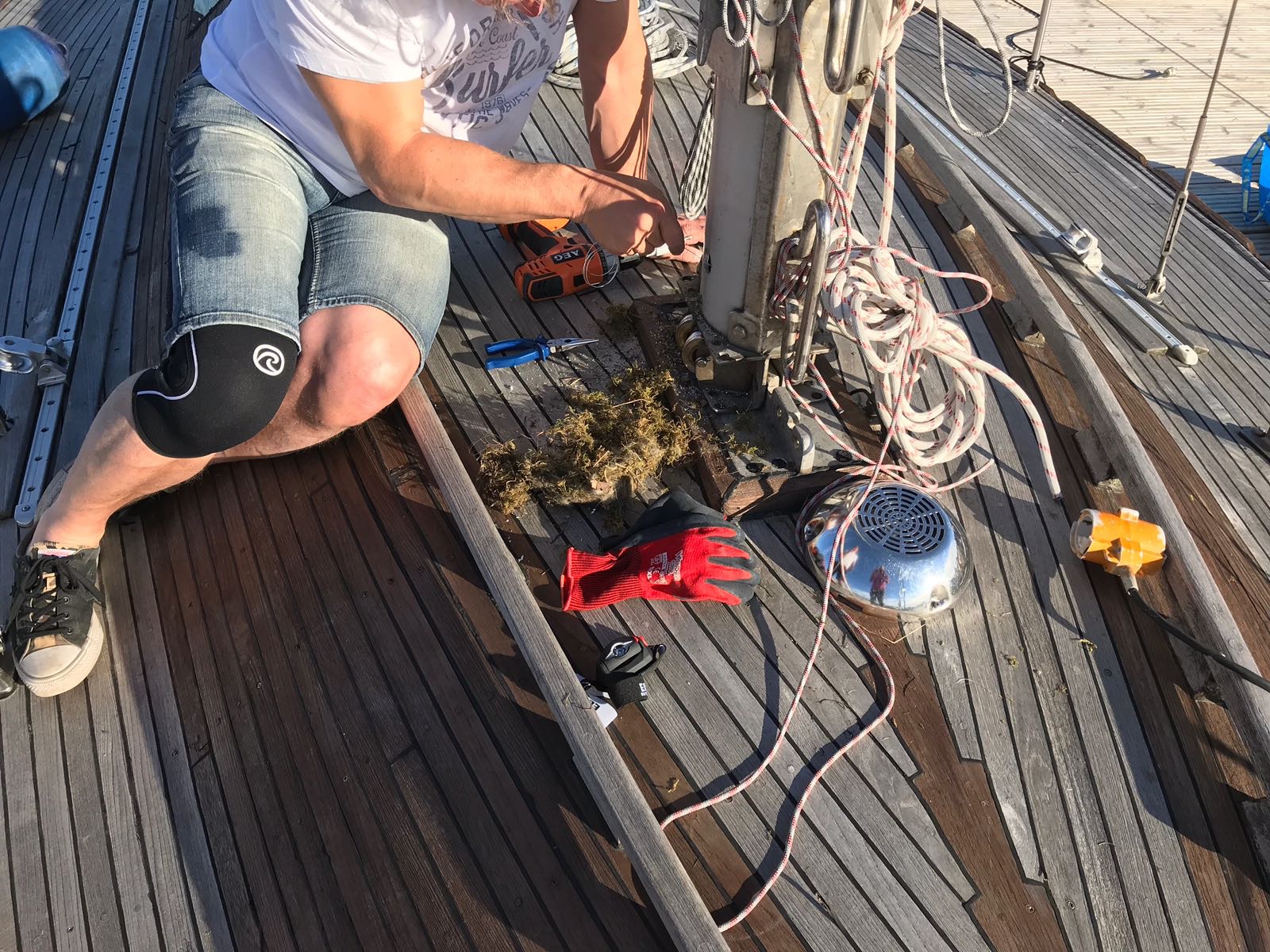 My mentor
Seppä Risto has been an invaluable help with the boat. There is no such thing that he does not know, and the result is better than in boat repair shops. If you ask Risto, I don't owe him anything. If you ask me, I owe him everything for his unsolicited help. The thing with a boat is that no matter how much money you have for maintenance and doing things, you just can't buy everything. It is good or even necessary to have a mentor who knows how and shows how to do things. Youtube is of course helpful, e.g. by following the sailing channels offering on behalf of DIY, but there is still a long way to do things yourself.
Sauna
The sauna was designed by a Russian space engineer. It is not only incredible that this three-four person comfort facility fits in a icehockey bag in a boat, is erectable in one quarter and warm (80 degrees) in the other, but that he has been able to create a better sauna in the darkest corner of Siberia than anywhere else in the world. In addition to the sauna tent and the stove, the sauna naturally includes decks, a water heater and an outdoor tent, which forms a sheltered and warm dressing room/shelter around the 2 x 2 x 2 m sauna tent. A 20 L sack of wood and 20 L of fresh water will comfortably last you through the weekend.
Swedish masseuse
Unfortunately, the ship's crew does not include a Swedish masseuse, but we will hire her as soon as we find a suitable one!
Get to know the best job in the world and see if it's just you:
---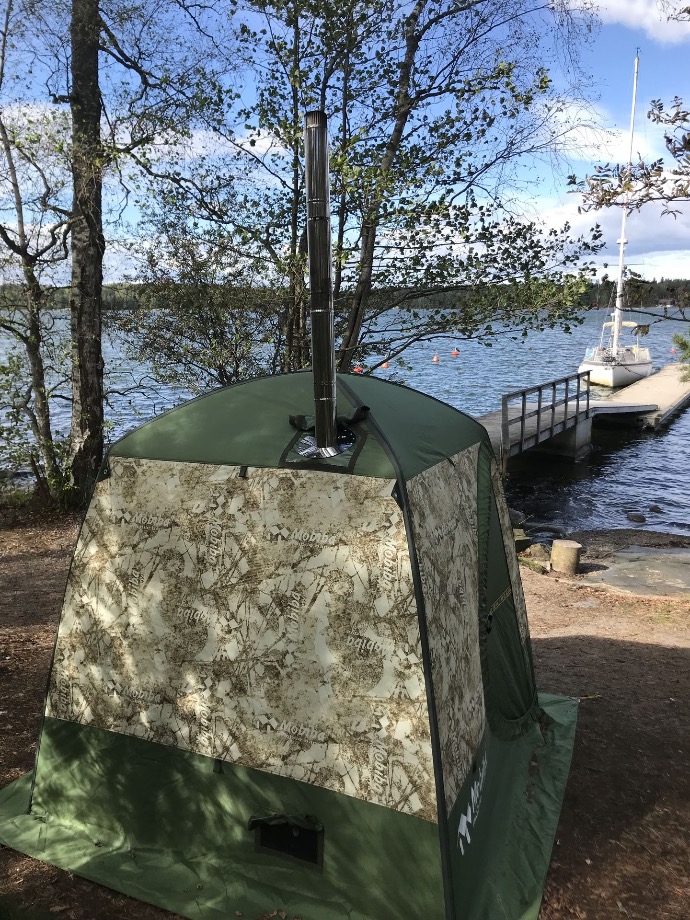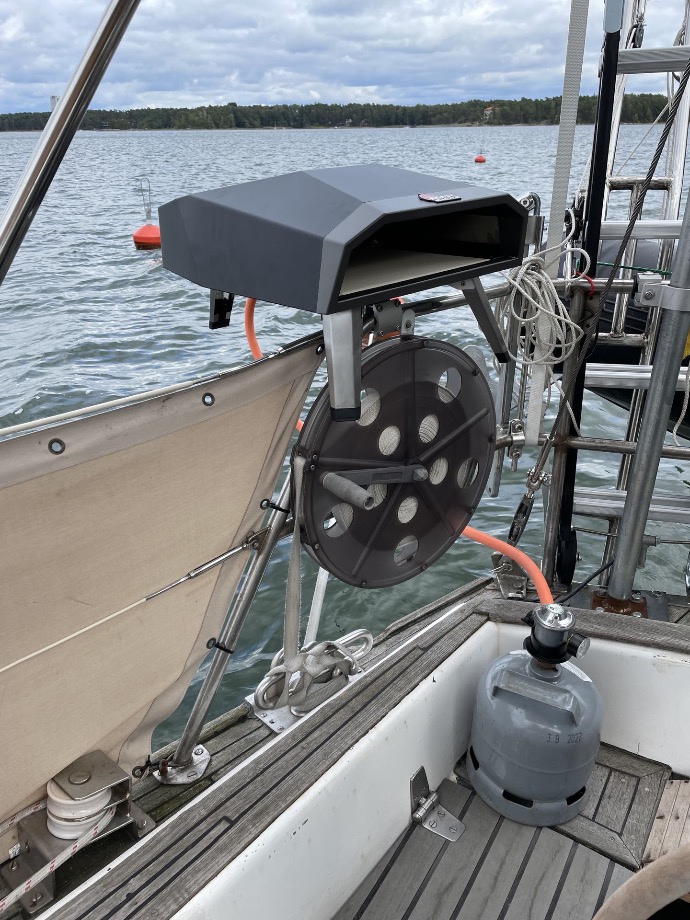 The kitchen has the latest amenities
In addition to hot running water, the kitchen naturally has a dishwasher and gas stove with oven and grill, ice maker, Margarita mixer, refrigerator with freezer, Cappuccino machine, charcoal grill, and burner.
The last addition is a gas pizza oven that heats up to 400 degrees for 10 minutes. It prepares restaurant-quality pizzas with a crispy base in 60 seconds. The pizza bases go well in the freezing cold of the boat, Mutti's mashed tomato in the dry cupboard, Mozzarella in the fridge and the only green plant on the boat, Basil, thrives well in a pot in the boat's microclimate. When grilling gets boring, Margherita con Salame pizza has never tasted so good. For the next restaurant day, I should probably get pizza boxes and start the best pizzeria on the island. There is no doubt that the pizza will sell like crazy.
Library
Naturally, there is a fireplace and a library on board, with e.g. the complete works of Jacques-Yves Cousteau's Secrets of the Seas.

Who could tell us more about the seas than the old gentleman of the French Navy, who invented scuba diving 80 years ago and was a pioneer in the protection of the seas and nature. He saw over 60 years ago the traces of human activity on his adventures in the seas of the world and making documentaries for us about it.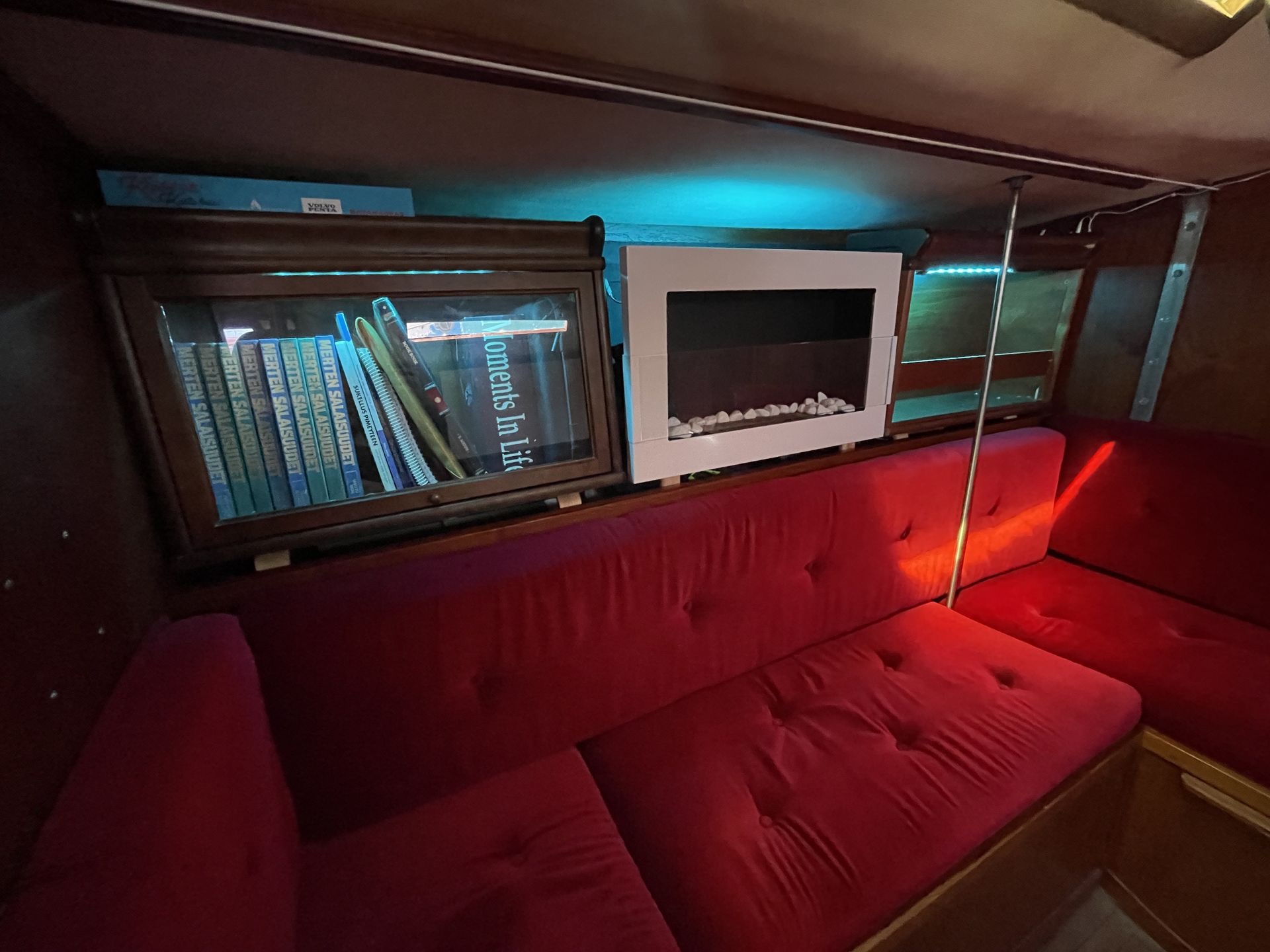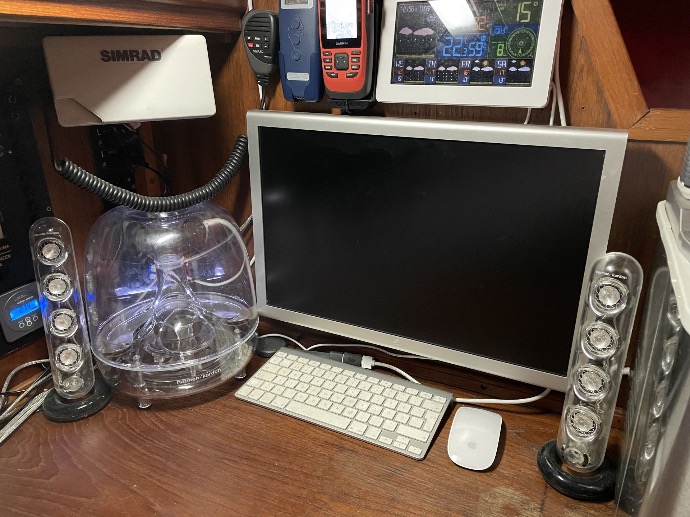 Cutting room
Working on the boat is comfortable. If you want to do things from the bow of the boat with a pad, with a laptop from the deck, or if you need a bigger screen and a better keyboard/mouse, there are options all the way up to the projector's 40-inch screen.

Or take your laptop to the island because the boat's Wi-Fi covers hundreds of meters.
Underwater observation bubble
In addition to diving, Cousteau invented e.g. underwater observation bubble to Calypso, underwater photography, underwater scooter and much more.
Today's sonar technology is so advanced that with the Real Vision 3D sonar you can see under the ship as if you were looking below the surface from a glass-bottomed boat.
Fishing becomes really easy when you can use the echo to locate a school of fish, put the hook in the mouth and reel in the catch. From the link below, you can see how Juho and Sohvi from the Alluring Arctic boat handle the procurement of food in just over a minute.
---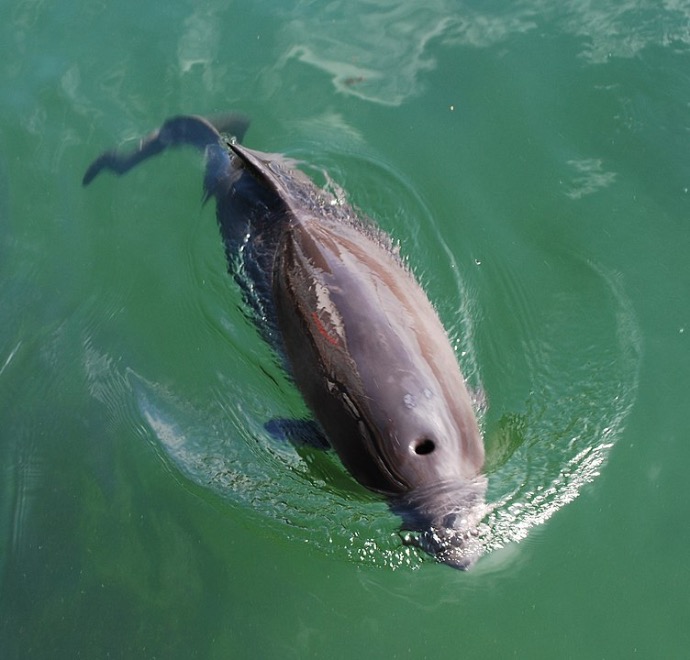 Porpoises
Porpoises often swim around the ship. However, I have only noticed almost uncertain signs of this a couple of times.
The world's smallest species of toothed whale lives regularly in Finnish waters, but only a few have seen it. "But they do live here in our waters," assures Olli Loisa, the special expert responsible for monitoring porpoises.
Helsingin Sanomat has the story.
---
Engine room
The ship's main engine was replaced in 2019 with a new Volvo-Penta D1-20 engine with a marine gear, i.e. a shaft drive device. This 0.8 L three-cylinder 20 hp Perkins freshwater-cooled diesel engine gets the most out of its 1.25 L/h (2000 rpm) consumption: 5 knots speed, 115 A current, 25 L hot water boiler heating, 10 KW interior and 5 KW cabin heater motor with circulating water heating.
When you go with motor, the cost is a couple of euros per hour, the journey is about 10 km, and in addition to the previous ones, 115 A power can make 60-70 L of clean water in the fresh water tank with the watermaker and wash dishes or machine laundry and dry them. Yes, there is a Daewoo Mini 3.5 kg tumble dryer on board.
Of the diesel's 1.25 liter 15 KW calculated energy, not a single watt is wasted.
---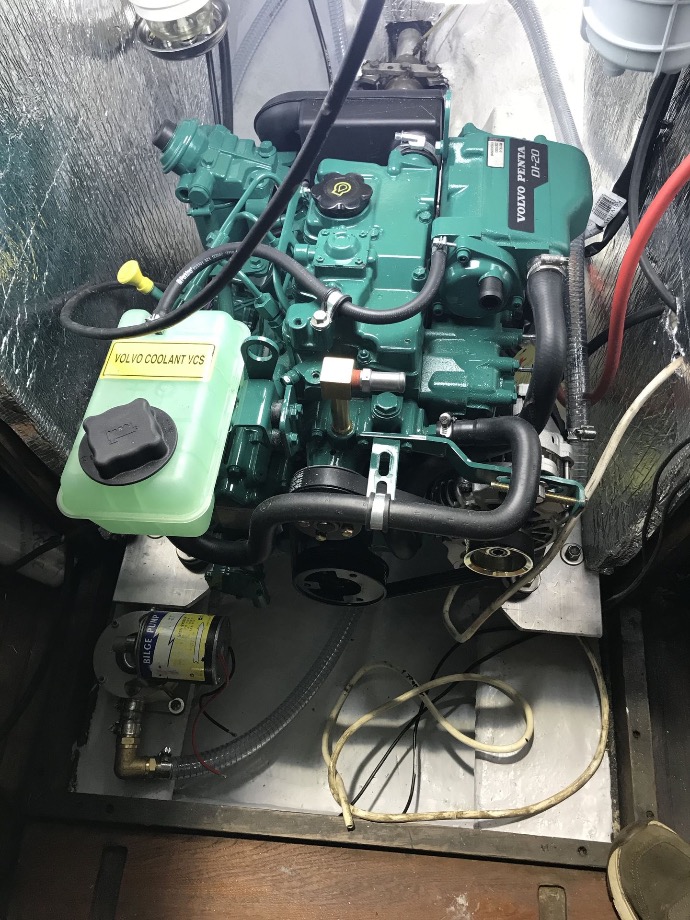 Chopper
Every sailor who produces content usually has a drone to record the incredible scenery from a bird's eye view.
Fortunately, in today's world, things are much easier than in Cousteau's time. When the number of hands is limited, flying the drone becomes challenging. Fortunately, controlling the DJI Mavic Pro is an app on the Raymarine Axiom multifunction screen, i.e. the so-called on the chart plotter.
When there is also a 360-degree camera, everything can be captured at the press of a button, and later in the editing phase you can decide in which direction you want to save the camera image or let the viewer decide with VR glasses, for example.
---
Mini sub
What is still clearly missing from the ship's equipment, in order to stay at the sharpest point of Maslov's hierarchy of needs, and which is really an important and handy piece of equipment, is a diving robot, i.e. ROV or underwater drone. FIFISH represents the latest generation of these products. With it, you can check the ship's hull, propeller, rudder, anchor, search for and rescue a mobile phone, camera that has fallen into the water... and of course, at a dive site, such as a wreck, do a pre-dive and check that you are in the right place and what the visibility is like before you start weighing the frogman's equipment on.
Underwater gadgets
I started diving in 1986 (CMAS) and graduated as a diving instructor in 2008 (PADI). I have left the training to the younger ones, but I like to dive on trips to southern waters with Risto, whom I have introduced to the most intimate areas of diving.

The ship has diving equipment and, of course, a high-pressure breathing compressor for refilling oxygen bottles. This too has its own story to tell, but for me, this third compressor left over from the dive shop has perhaps the most cherished meaning, in addition to the brand, the year of manufacture: 1976.
Jacqueline
She didn't really love me :(
---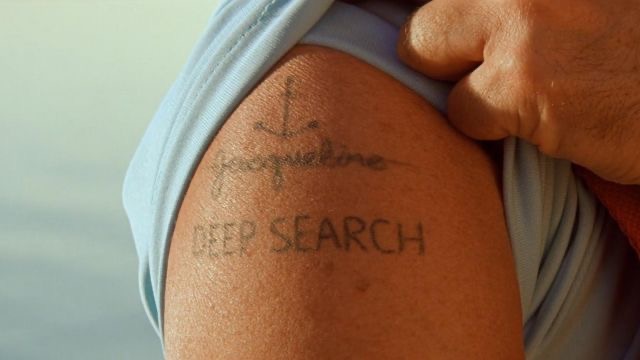 Dynaaminen pätkäsi näytetään tässä... Tämä viesti näytetään, koska et ole antanut sekä suodatinta että mallia käytettäväksi.